Welcome to the Helmar Halloween Howler Blog Hop!

We are so excited to show our Halloween/Fall Creations featuring Helmar Adhesives & Art mediums!  Fall happens to be my favorite time of year to scrapbook.  I love the colors and I love leaves!  For some reason I own a lot of leaf stuff (i.e. punches, stamps, embellishments, etc.) so I am very happy when this time of year rolls around. Plus the weather is cooler and it is ok to hunker down in my studio with a nice cup of tea. 
I created this Gratitude Altered Journal featuring Helmar Acid Free Glue, 450 Quick Dry, Liquid Scrap Dots & Crackle Medium
 Step By Step Instructions:
Spread Helmar Acid Free Glue on back side of patterned paper and spred with glue spreader or foam brush to get a nice even layoer (make sure to get those edges too).  Do this for the front & back cover.
Cut 2 X 4" piece of patterned Paper and adhere with Helmar Acid Free Glue
Stamp Leaves on Patterned Paper and apply Helmar Crackle Medium (Step 1 and 2) to desired amount of crackle.  Rub brown ink over cracks for distressed effect.
Sand and Ink all edges.
Adhere Crackled leaves with Helmar Liquid Scrap Dots to achieve 3 dimensional effect
Stamp title on White Cardstock, distress and adhere with Helmar Liquid Scrap Dots
Adhere buttons & felt leaves with Helmar 450 Quick Dry.

Materials Supply List
Adhesives & Art Mediums – Helmar Acid Free Glue, 450 Quick Dry, Liquid Scrap Dots & Crackle Medium
Patterned Paper – Bella Blvd
Stamps – Inkadinkado
Leaves Stamp – unknown
Felt Flowers – Creative Impressions
Ink:  Colorbox
Buttons:  Unknown
Thank you so much for stopping by my blog as the first stop on your creative journey through the Helmar Halloween Howler Blog Hop!  Your next stop is the very talented Erika Taylor by clicking the arrow below……….remember to leave comments at each blog you visit for chances to win some GREAT prizes from Helmar!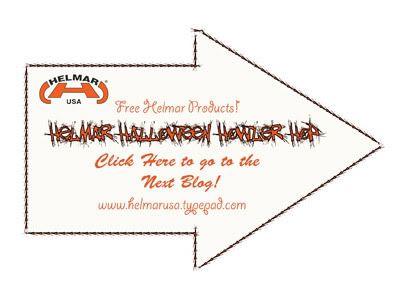 HAPPY HALLOWEEN everyone and remember to share your thoughts of gratitude along the way!
Art is not about thinking something up. It is the opposite — getting something down." ~ Julia Cameron